September 17th, 2009
---
09:32 am - Toddler Curiousity = A Knitter's Nightmare
Hello all. I apologize for my lack of bloggy goodness the last few weeks. I have been trying to knit as much as possible because I am determined to get through my WIPs. So... I knit like a crazy woman on my WIPs and then get bored of the same projects and start two more. Ugh! There is, seriously, a connection missing in my central nervous system. There is no other possible reason for my actions! I complain about my impending pile of WIP doom, yet I make it worse. I think I'll call this "lack of connectivity" the Knitter's Plague.

So as for my WIPs.

The Classica Coat http://www.ravelry.com/patterns/library/clasica-coat is coming along quite well. I have now finished the entire back and am now trying to complete the 22" hood extension of the lace repeat pattern, which is very tedious and has led to my branching out into new projects.

The Felted Tote http://www.ravelry.com/patterns/library/felted-kureyon-bucket-bag has had no progress in the last few weeks and still sits at the 25% marker in my Ravelry.

The Bubble Gum Beauty Scarf (Also known as the "Walmart" scarf) http://www.ravelry.com/patterns/library/lacy-scarf-10 has also, unfortunately, had no progress except to switch it to my new harmony needles in order to use my bamboo US 10s on the Clasica hood extension.

My first pair of socks http://www.ravelry.com/projects/OoKnittyLou/first-socks has only had a little bit of progress and it almost to the toe decreases on the first sock.

My knitted sweatshirt http://www.ravelry.com/patterns/library/not-your-standard-issue-sweatshirt now has a completed back but has officially been put to sleep since I am now using those needles for my Clasica coat.

Jack's Blanket http://www.ravelry.com/patterns/library/baby-blocks-2 has resurfaced in my WIP pile from the bottom of my stash box as my TV watching project so I can stop goofing up and frogging my more difficult projects.

Now onto my NEW projects (Again I blame the KNitter's Plague).

The first is the Baby Surprise Jacket by Elizabeth Zimmerman http://www.ravelry.com/patterns/library/baby-surprise-jacket . Now I am sure that many of you have knitted this project over the years and found it to be a perfectly peaceful knitting experience. I, on the other hand, have not been so fortunate. Between the pattern not being line by line which I'm used to and my son sabotaging this piece or the yarn as often as toddlerly possible, let's just say that if I don't finish it soon, I may show up on Halloween dressed as Mr. Clean because I have pulled out every last strand of hair on my head (which I'm positive would probably be noticeably lumpy if I were indeed bald). This morning for example, I'm knitting away happily (finally past the point of grumbling at poor EZ) and I go to tug for more yarn for the next row, and I can't. Why can't I you ask? Because somehow ,very sneakily I might add, my son had pulled the remainder of the ball of yarn out of my coffee can yarntainer and wrapped himself up with it. Not gently around his arms either. He had it in between his fingers and toes, caught around the button of his shorts, and over his ears. He was happy as a clam until I started unraveling the yarn and he realized that he couldn't stand up to run away because his legs were tangled too tightly. That was the moment when my precious son morphed into a wiggly worm with a baaaddd temper. By the time I had finally untangled the whole mess, I had dropped ten stitches off my needles. Normally, this isn't too big of a deal, however, the two scenarios where I HATE picking up dropped stitches is cables and garter stitch. For those of you who have knit this jacket already know, the entire thing is garter stitch! Again went the grumbling to the poor, unsuspecting, and sadly departed EZ. This pattern might be genius, but it is definitely NOT toddler-proof. But I keep reminding myself that paybacks can make a tough experience worth it, and my poor poor son will be plagued of this jacket until the last possible moment when it no longer fits. Unfortunately for him, because I made it larger, it should fit him for a good long time. Ah ha ha ha ha ha!!!!

My second new project is a pair of socks for my WIP sabotaging son, but I am in no hurry to finish them and I will make sure to make those "away from home" projects. I purchased 1 skein of the Regia Flusy the Sock Monster yarn. The yarn is sweet but the story book that comes with it makes the whole experience a fun one. I think that these socks with the book will be fun gifts to give the children in my life in the future.

As usual, my projects can be found on my Ravelry page at http://www.ravelry.com/people/OoKnittyLou

I think that's it for my knitting. Briefly on my life in the real world. Jack will start daycare on Monday, I am returning to my previous job as Optician on Wednesday four days a week, and I am anxious and stressed about both of these new life changes. I'm sure that once our new routine is established, things will mellow out and I will feel better about putting my son in daycare. But as for the moment, I feel like I've won the worst mother's award by abandoning my son. I am determined to stay optimistic and I just keep reminding myself that he will love to play with all of the other children and that this will be a great experience for him.
Current Mood:
cranky

August 31st, 2009
---
04:00 pm - Change of Plans
Okay so after MANY comments and tips from all of the much wiser knitters than I, (Thankyou all so very much) I have come to the conclusion that recycling this sweater is in all actuality, NOT a good idea. Between the fact that the gauge is off .5 stitches for every 4" (I unraveled part of the sweater in order to get a gauge, but have since reknit it so I can wear it as is) and the 100% acrylic, I have been convinced that it would be a shame to do all of this work on my favorite pattern queued so far with completely acrylic yarn. I went to my LYS today and one of the women there helped me to explore my options. We decided on Plymouth Yarn Encore Chunky 75% Acrylic 25% Wool. Which mind you, is EXACTLY what one of my readers recommended. Thankyou "madeyou_look" you are truly a genius :) I found it in a tweedy taupe whih I love and it doesn't look nearly as flat as my last experience with this yarn. Yeah tweed! At 25% Wool, I think my contact allergy should be okay as long as I don't over-do it. Let me repeat that now, "Do Not Over-Do Your Knitting Lou!" Yeah right lol. The total yarn price was $84.00 and *OFFICIALLY* last time I am buying yarn until my stash is much more manageable.

So, thank you all for your advice and encouragement and although I am not recycling for this sweater, I will still be update progress pictures and notes if you would like to follow along.


Current Mood:
optimistic

August 30th, 2009
---
10:13 pm - Recyling Yarn To Fit Budget
I have had so many amazing things happen for me in the last few days. First, is that a Saint in my life gave me more yarn than I could have imagined! And not just any yarn, but tons of sweet, soft, lusciousness all in my taste. She knew that my husband and I are doing our best to live on a budget and that our goal is to save for a decent down payment on a house in the next 5 years. So there it was. A gift. Now I've never been very good at accepting gifts but this was one of those moments where I was speechless and near tears. I couldn't have dreamed of someone doing something so very kind for me. I am very lucky to have such a sweet wonderful person in my life.

Second bit of news is this. I have decided to knit the cozy cardigan on the Fall 2009 Interweave Knits Cover. The pattern is called the Classica Coat and the designer is Deborah Newton. This is the first pattern that I have gone totally nutty for. I saw it and just HAD to have it! Well, not only will this be the most difficult thing I will have ever attempted knitting, but the yarn it calls for is the Manos del Uruguat Wool Clasica (100% wool; 138 yds/ 100g) by Fairmount Fibers. I have a 37" bust but I want plenty of positive ease in order to get the same look as the cover fit, so I am going to make the 46" bust circumference pattern. That would mean, that I need 15 skeins. Fine, but then I realized that these are $16.00 per skein. That's $240.00 for the yarn to make this coat and that's figuring that I already have the correct needles! Yikes! I had no idea that it would cost that much. So, I started looking into comparable yarns for it, but was still coming up with $100.00-$120.00 for the coat. Unfortunately, that is just more than I can afford and I definitely don't have that in my stash either. So I started fretting about how in the world I was going to make that coat. And then it hit me. Why not recycle? I like to recycle everything else, so why not yarn?

So, my husband and I went to a bargain store called Ross. They sell previous season's garments but that are still new and just hadn't been sold by the original merchant. At much much lower prices mind you. I found 3 sweaters that I loved. I loved the yarn as well as the current style that they were in. I made sure that there were multiple sweaters per each design and color and then put the extras on hold and purchased one of each in my size. I took the purchased sweaters home and quickly figured out the current gauge. Only one of these would work with the gauge the pattern called for but it's my favorite of all of the colors (this was the moment when I started jumping up and down in my kitchen with my husband in the other room, probably wondering how in the world he got suckered into marrying such a crazy person).

I messages of few of my friends on Ravelry and asked if they thought it could work. Both of them said to make sure the garments were new to avoid damaged or bug infested yarn (gross!) and also to make sure that the garment was seamed and not serged. Oh crap! (This was the point where I dashed across the room to the sweater in order to check it SO quickly that I nearly barreled right over the top of my son) Comparing the sweater to the pictures one of my friend linked to me, I realized that it was indeed seamed. Yeah!

So my plan is to purchase the other 2 of this sweater tomorrow and to bring them to the Friday Night Knitting Club where my friend can hopefully get me started unraveling it so that I can wash and dry the kinks out of it and then wind it up for it's true purpose in life. My coat. I think I may only need 2 of the sweaters for the coat, but I'm not taking any chances. I will alternate balls of yarn every 2 rows or so in order to even the color and I think it will be great. A learning experience for certain.

Cost with recommended yarn = $240.00
Cost after recycling = $30.00 (2 sweaters) - $45.00 (3 sweaters)

Now THAT I can work with :) Here is the sweater I will be using. It is acrylic, but it is super cozy and the coat really doesn't need to be blocked perfectly for it to look like it is intended.

Here's the sweater I'm going to rip out.




And here is the coat.




I will keep updating on the progress of this crazy endeavor. Wish me luck and any advice would be greatly appreciated from anyone who either has or who has heard of doing this.
Current Mood:
determined

August 26th, 2009
---
10:57 pm - Yarnoholics Anonymous
So I think I need to find my local "yarnoholic" anonymous meeting. I indeed have an addiction to knitting and buying yarn. Dictionary.com's definition of addiction is as follows;

Addiction: -noun
the state of being enslaved to a habit or practice or to something that is psychologically or physically habit-forming, as narcotics, to such an extent that its cessation causes severe trauma.

Yup! That pretty much sums it up, except for the whole narcotic thing. I not only had to buy a new storage container for my stash, but I just bought new yarn last week with no idea (Got that? NO idea!) what in the world I am going to knit with it. But then today, I spent $100 at Knitpicks.com. What, may I ask, is going through my head? If I am not knitting or shopping to knit I feel sad almost; like a piece of my life is missing. I have this mentality that whenever something goes wrong, knitting can fix it. "What? No toilet paper? Sorry honey, but look at my pretty project! Don't you just feel so much better now?" It's ridiculous really, but I love it! I think we all do. All of us crazy and addicted knitters. We should all really be committed. Oh no, wait. That would mean no needles. Never-mind. Knitters WITHOUT needles would likely be more dangerous than crazy, non-knitters WITH needles.

I'm in the middle of 4 books at the moment. Slow progress considering I would actually have to stop knitting long enough to read. They are all very entertaining so far.




The Secret Life of a Knitter is a refreshing grasp on this crazy and yarn-filled life.
Drunk, Divorced, and Covered In Cat Hair is a light hearted and mostly humorous memoir.
The Host is a typical sci-fi story but with two rocking women main characters, a nice change.
The Accidental Housewife is truly going to save my life. More efficient housework = more time to knit.

I also have an awesome shout-out tonight. I have discovered the pod-cast Here's To Ewe and it is by far the best I've heard! It has two women speakers, Maddie Hatter and Red Queen, and the topics are great. Their information is imperative for the "new" knitter to know and very easy to follow. They also have a section called "Drunk In Public" that is truly original and hilarious. In fact, the first time I ever heard one of their pod-cast was on my Ipod in a waiting room. Awkward could not begin to describe my feelings when the completely silent room gave me the evil eye because I was laughing uncontrollably. If you haven't already, please go check them out. You will be pleasantly entertained as well as educated. Here's the link.

http://herestoewe.wordpress.com/

Goodnight all. Your crazy blogger is ready for her slippers, comfy pants, and my nice warm bed. Take care.
Current Mood:
mischievous

August 21st, 2009
---
10:56 pm - Little Sprout
I just finished another baby hat for a friend of a friend of a friend. I think it turned out well. I love the leaf :) We had another meeting of the Friday Night Knitting Club and it was a blast! I love this group of women and look forward to this group all week.


Current Mood:
tired

August 19th, 2009
---
03:40 pm - First Fair Isle
I made a newborn hat for a friend of my mothers and it turned out well. It was my first fair isle and it actually wasn't as terrifying as I thought it would be.




More project details here: http://www.ravelry.com/projects/brandicea/fairisle-newborn-hat
Current Mood:
accomplished

August 15th, 2009
---
07:25 pm - Jade
Mossy Beret




I gave this to my sister-in-law last night for her birthday. I think she liked it.
Current Mood:
tired

August 13th, 2009
---
08:59 am - First Steps!
A few days ago, Jack took 2 steps in my favorite coffee shop, but then yesterday... He walked! He took a clean 5 steps and then ran the last 3! And he did it numerous times. The pic is of him running.




Also, Jack discovered cell phones and boxes. Oh joy!


Current Mood:
excited

August 12th, 2009
---
04:58 pm - Christmas Gifts 2009
I am very proud of myself this year. I already have a complete list of what we are gifting this Christmas. I'm never really one to plan this far ahead, but I want to knit quite a few, so I'd better get started. So, unless it's a personal or a project for another occasion, I won't be able to post many FOs. I don't want anyone who reads my blog to have their gift spoiled, but I will keep my Ravelry updated since noone I'm gifting has an account.

http://www.ravelry.com/people/brandicea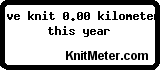 Current Mood:
chipper

August 10th, 2009
---
07:05 am - Rorschach blot
What does this Rorschach blot look like to you?

I think it looks like a fox mask